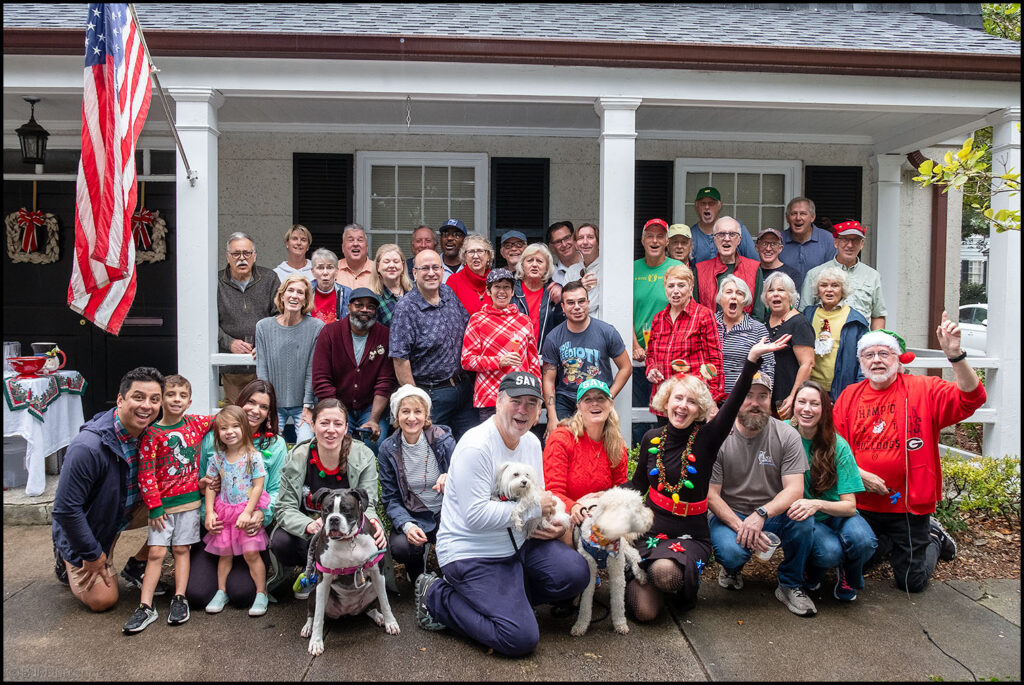 In 1733 General James Oglethorpe founded the 13th colony, Georgia, with the establishment of Savannah on a bluff above the Savannah River. The current Landmark Historic District (downtown) mirrors the original Oglethorpe Plan, a grid of streets and egalitarian lot sizes with a series of small parks or "squares." The properties that extend two blocks north and south of a square, and one block east and west of the square make a "ward." (For a much more detailed explanation of The Oglethorpe Plan, read Thomas Wilson's excellent The Oglethorpe Plan.)
Some time before my involvement, the City of Savannah partnered with the Downtown Neighborhood Association (representing the interests of downtown residents) to name a Ward Captain in each ward and that person's one responsibility would be to round up enough neighbors to put up some ribbon, bows, and garland, decorating their square around the first of December, and taking it down January 1st, with the materials furnished by the City, and (I think) the Chamber of Commerce.
In the early 2000's I wound up being the Washington Ward Captain. We had a few neighbors, and a fair amount of vacant properties, but it was enough people to get the job done easily and quickly, and be proud of how our square looked each year. As we acquired more residents, and more people showed up to help, someone started bringing snacks. Then beverages. In 2012 I started photographing the group after we finished, and have only missed two years of photos so far. Above is this year's, from last Saturday. Barbara, black dress 4th from right, with the Christmas lights necklace (of course) and I have lived in this neighborhood the longest of any now, over 30 years.
An adjacent ward, Warren, has a lot of commercial property, so there are fewer residents to do the decorating, and somewhere along the way we just combined our populations and did the two squares together. Of course the party part grew, and now there were refreshment tables set up. A couple of years ago we added a third, Greene Ward, and now it's a moveable party, with each square providing food and drink as the few fearless climb ladders, make short work of the project, and move on to the next square, while many more watch. The neighborhood has grown and we have a lot more people than needed, but that's OK, because some of these people should not be on a ladder, me included.
I heard mention of some conversation about the City taking over doing the decoration starting next year. I don't know how accurate that information is, but if it is true, I think that would be a mistake. It's likely that a City plan would be minimal budget and effort, standardized as much as possible, and outwardly focused, toward visitors. It would be the next step in the 'theme-park-ification' of downtown Savannah. When we, the residents, do it, we do it for us, and to show off our neighborhoods. I believe we get a better product. And, more importantly…
There's a lot more going on here than just hanging ribbon, bows, and garland.
"Decorating the Square" is a new gallery with eight group photos from the last ten years, including Pandemic Christmas, when we also had an ugly sweater contest. To see that gallery, go to https://www.billdurrence.com/index/G0000WbSqyQ_uGRc